Regular price
Sale price
$97.86 USD
Unit price
per
Sale
Sold out
Low stock: 1 left
A piece of jewelry that embodies the essence of Irish culture and tradition. Crafted with intricate details and expert precision, this necklace is a true testament to the beauty and charm of Ireland.
The elegant design features a three-leafed young clover with heart-shaped leaves that were considered sacred by Celtic Druids. This meaningful symbol has come to represent faith, love, and hope - three qualities that are cherished by people all around the world.
The Shamrock has a rich history in Ireland and has been associated with many important events and figures. Saint Patrick, the country's patron saint, famously used the Shamrock as a metaphor for the Christian Holy Trinity, and it has since become a national emblem of Ireland.
This necklace is a perfect way to show your appreciation for Irish heritage, or simply to add a touch of elegance to any outfit. The 1.5 cm disc is just the right size to make a statement without overpowering your ensemble. And, with an 18-inch Diamond Cut Trace Chain, it sits beautifully around your neck, enhancing your natural beauty and drawing attention to your neckline.
Made with high-quality materials, this necklace is built to last. It is crafted from Irish Silver, a precious metal known for its durability and shine. The Diamond Cut Trace Chain adds a touch of sparkle to the piece, catching the light and creating a mesmerizing effect.
This necklace makes a wonderful gift for anyone who loves Ireland, or for someone who simply appreciates fine jewelry. It comes beautifully packaged in a gift box, ready to be presented to that special someone in your life.
With its perfect size and beautiful chain, it is sure to become a cherished piece in your jewelry collection for years to come. Order yours today and experience the beauty and magic of the Emerald Isle!
Dimensions/Sizing 1.5cm disc set on an 18 inch Diamond Cut Trace Chain
Materials Sterling Silver
Made in Ireland and Hallmarked in the Assay Office, Dublin Castle
View full details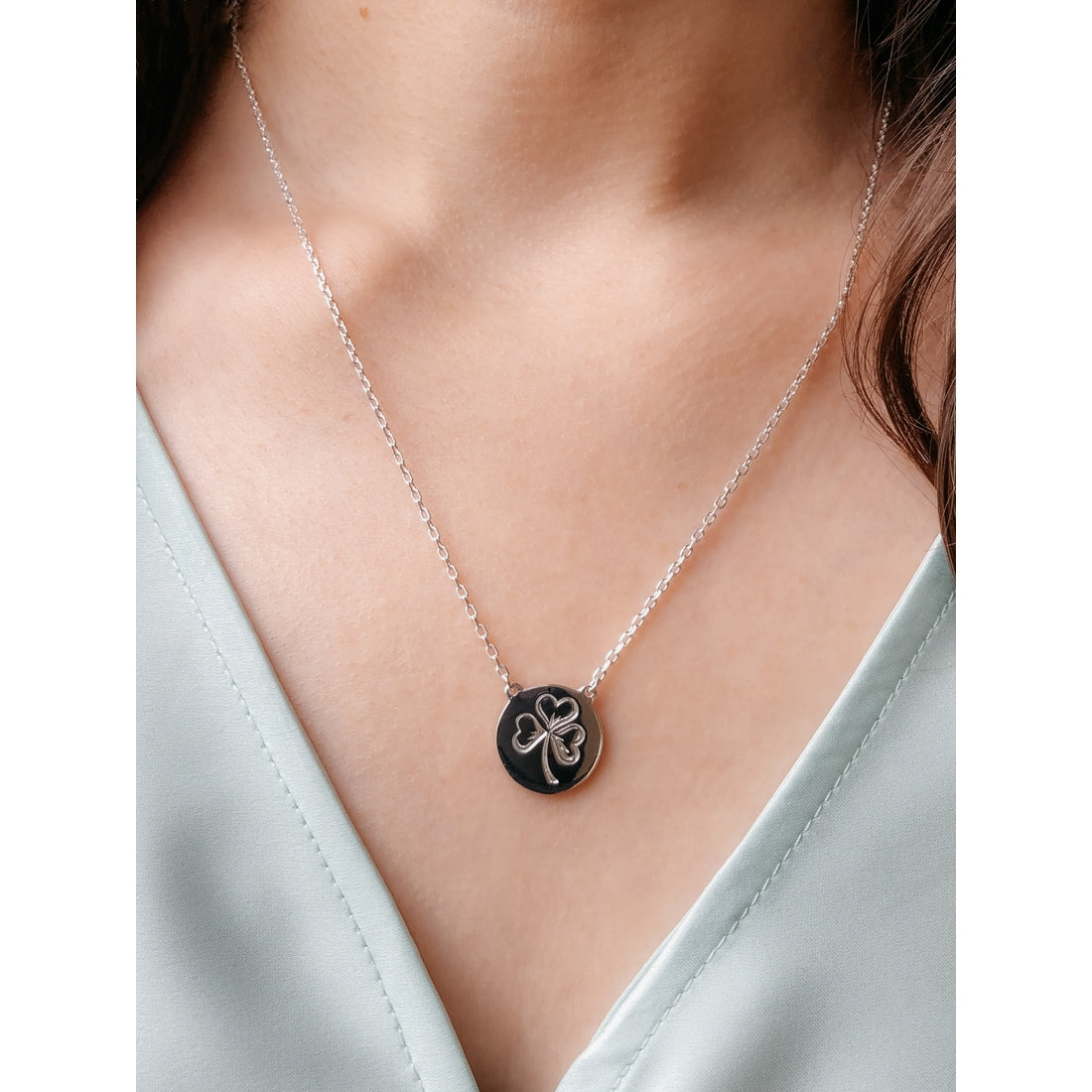 Free Shipping

FOR U.S. ORDERS $75.00 USD+ | FREE RETURNS FOR ALL U.S. ORDERS